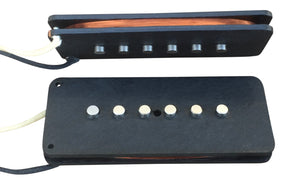 Our Vintage Class Jazzmaster® set pays homage to those classic Jazzmaster tones from the early years. These handwound pickups feature heavy formvar wire, fiber bobbins, cloth leads, period correct short magnets and 1/8" coil. They are RWRP for hum cancelation in the middle.  

USA Made Black vulcanized Flatwork
Vintage Correct Coil Height 
USA Made 42 Guage heavyformvar wire
Cast alnico 5 magnets 
USA made cloth leads
Wax Potted
Handwound & Handmade Nebraska

7.2 Neck CCW North (+/- 5% @ 68 degrees)
7.6K Bridge CW South (+/- 5% @ 68 degrees)
These reading are approximate and can vary with temperature. 
See announcements at the top of the page for current build time.