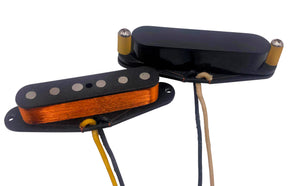 The 2|5 Union set uses alnico 2 on the trebles, and alnico 5 on the bass side. Using only the best materials, the 2|5 Union S set features heavy formvar wire, fiber bobbins, and cloth pushback leads. The neck and bridge are wound clockwise with magnets south up. The middle pickups is RW/RP. White covers included, but you can request another color if you wish.
USA Made Black vulcanized Flatwork
USA Made 42 Guage heavy formvar wire
Flush Cast alnico 2& 5 magnets 
USA made cloth leads
Wax Potted
Handwound & handmade in Nebraska 
Neck 5.9k (+/- 5% at 68 degrees) 
Bridge 6.4k (+/- 5% at 68 degrees) 
See announcements at the top of the page for current build time.